Asteroid City is an upcoming American romantic comedy-drama film written, directed and co-produced by Wes Anderson, based on a story by Anderson and Roman Coppola. The film follows the transformative events that occur at an annual Junior Stargazer convention in 1955. It features an ensemble cast that has been described as being "larger than most other Anderson films that are ensemble in nature."
Wes Anderson Asteroid City Poster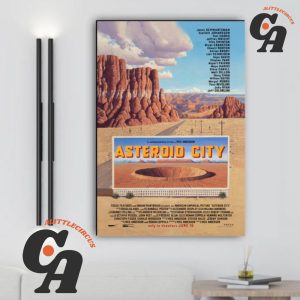 Welcome to the world of Asteroid City poster ! Are you looking for a way to spruce up your living space with something unique and eye-catching? If so, you've come to the right place. Anderson Asteroid City poster is the perfect choice for making your home or office look amazing with minimal effort.
Each poster is made with high-quality printing, ensuring that you get the best possible presentation of the artwork. The posters feature a range of interesting, vibrant images of cities and landscapes, giving you the chance to bring a bit of the outside world into your home. Whether you're looking for a bright, colorful poster to brighten up your living room or a more subtle, minimalistic design to give your office a professional look, Cheap Asteroid City Poster Wall Art has something for you.
What's more, each poster is incredibly affordable, so you can get the perfect design without breaking the bank. With a wide range of sizes and styles to choose from, you can find the perfect poster to fit any space. So why not add a bit of life to your walls with Anderson Asteroid City poster? Check out our selection today and find the perfect design for you.
PECIFICATIONS OF POSTER:
Printed on 10 mil, 260 gsm resin-coated poster paper.
Hang with tape, tacks, or attach with clamps.
 Last up to 200 years color and 400 years black-and-white.
Clean with a dry or damp cloth when needed.
Shipped in protective tube.
 Printed in the USA.
SPECIFICATIONS OF CANVAS:
Wall art is so important to home decor because it helps a person express their personality and style. You can't go wrong with a canvas, it's a classic! People like to hang canvases on their walls because they give off a natural and artsy look to their homes.
Our canvases are custom molded from recycled materials, so if your audience is environmentally conscious, this is the product for you! It even comes with hanging hardware and protective bumpers!
No cover (acrylic or glass) over the print itself
Durable and lightweight
Sublimation printed