The Owl House Watching And Dreaming Poster Wall Art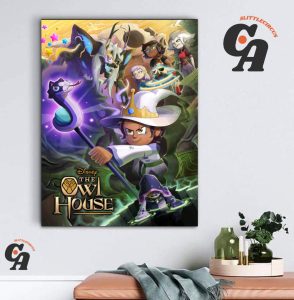 The Owl House Watching and Dreaming Poster is a beautiful and unique piece of art that celebrates the beauty of owls and the night sky. The poster features a graceful owl perched atop a branch, surrounded by stars and a dreamy night sky. The intricate details of the owl and its environment are captured in a dreamy and peaceful illustration.
This stunning poster is perfect for any room of your home, from a bedroom to an office, and it's sure to bring a sense of wonder and enchantment to any space. Not only is the poster visually stunning, but it also serves as a reminder to take time to slow down and appreciate nature.
This poster is a perfect way to bring a touch of the owl's magic into your home. Whether you choose to hang it in your living room, bedroom, or office, it's sure to bring a sense of awe and wonder to your space. So, don't wait – start your journey of owl house watching and dreaming today!
PECIFICATIONS OF POSTER:
Printed on 10 mil, 260 gsm resin-coated poster paper.
Hang with tape, tacks, or attach with clamps.
 Last up to 200 years color and 400 years black-and-white.
Clean with a dry or damp cloth when needed.
Shipped in protective tube.
 Printed in the USA.
SPECIFICATIONS OF CANVAS:
Wall art is so important to home decor because it helps a person express their personality and style. You can't go wrong with a canvas, it's a classic! People like to hang canvases on their walls because they give off a natural and artsy look to their homes.
Our canvases are custom molded from recycled materials, so if your audience is environmentally conscious, this is the product for you! It even comes with hanging hardware and protective bumpers!
No cover (acrylic or glass) over the print itself
Durable and lightweight
Sublimation printed