Cheap Spider Man Across The Spider Verse Merch offers a wide selection of products that are perfect for Spiderman gifts. From t-shirts and hats to mugs and keychains, there's something for everyone. You can even find Spiderman toys and action figures to give to the kids in your life. Whether you're looking for something for yourself or a special someone, you'll be able to find something to show your appreciation for the wall-crawler.
Hot AMC Gwen Stacy Across The Spider Verse Poster, Spiderman Gifts For Adults
The poster features a stunning depiction of Gwen Stacy, one of the most iconic characters from the Spiderman series. Her vibrant colors and dynamic pose make her stand out against the dark background. The poster also includes the classic Spiderman logo, giving it an extra touch of authenticity.
In addition to being a great piece of art, the AMC Gwen Stacy Across The Spider Verse Poster is also a great conversation starter. It's sure to spark conversations with friends, family, and fellow fans. You can discuss your favorite moments from the comics, movies, and TV series.
The AMC Across The Spider Verse Poster is a must-have for any fan of Spiderman. It's a beautiful piece of art that you'll be proud to display in your home or office. Plus, it's a great way to show your love of the Spiderman universe. So don't wait, get your AMC Across The Spider Verse Poster today!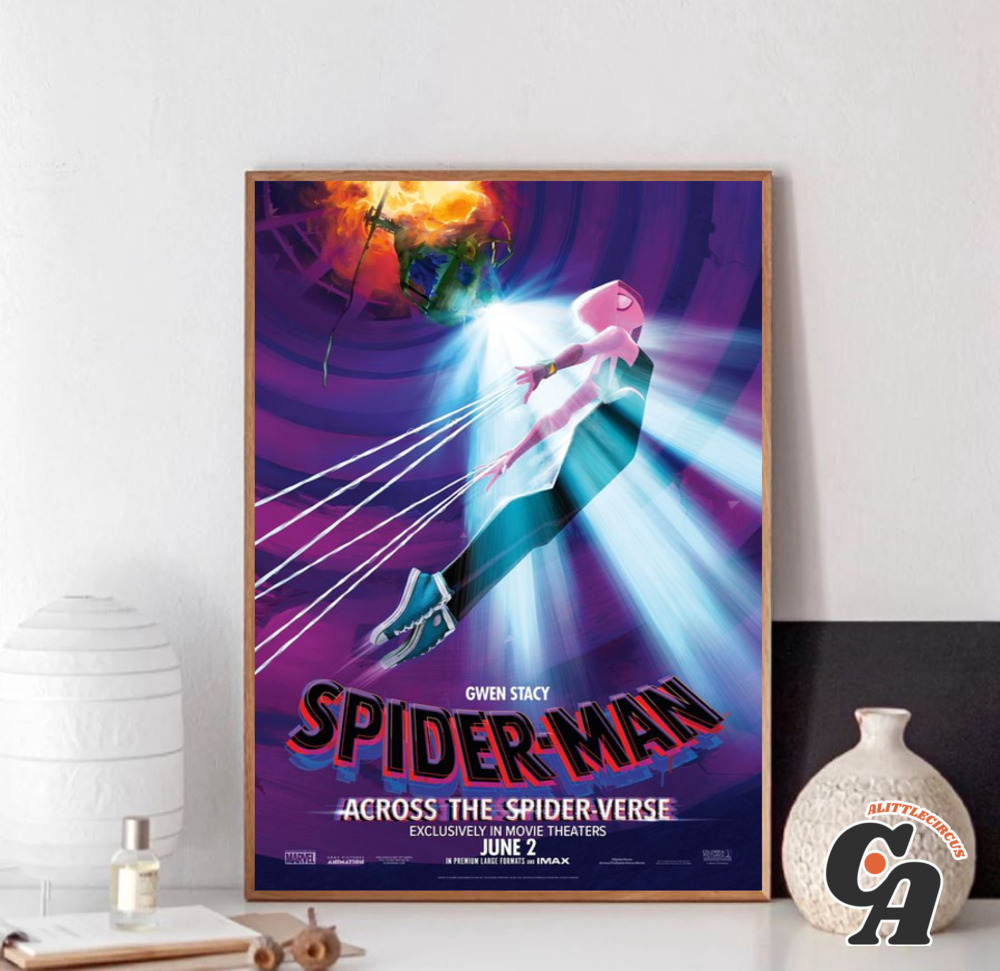 SPECIFICATIONS OF POSTER:
Printed on 10 mil, 260 gsm resin-coated poster paper.
Hang with tape, tacks, or attach with clamps.
 Last up to 200 years color and 400 years black-and-white.
Clean with a dry or damp cloth when needed.
Shipped in protective tube.
 Printed in the USA.
SPECIFICATIONS OF CANVAS:
Wall art is so important to home decor because it helps a person express their personality and style. You can't go wrong with a canvas, it's a classic! People like to hang canvases on their walls because they give off a natural and artsy look to their homes.
Our canvases are custom molded from recycled materials, so if your audience is environmentally conscious, this is the product for you! It even comes with hanging hardware and protective bumpers!
No cover (acrylic or glass) over the print itself
Durable and lightweight
Sublimation printed